Volcanoes
Layers of Earth's Atmosphere
exosphere—contains few particles that move into and from space.
exobase—the lower boundary of the exosphere.
thermosphere—temperature increases with height. The temperatures can rise to 1,500 degrees Celsius, but it would not feel warm because of the low air pressure in this layer.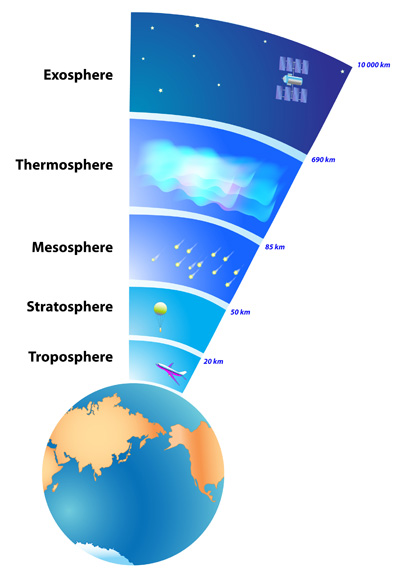 The International Space Station orbits Earth in this layer.
mesopause—the boundary between the mesosphere and the thermosphere; the coldest place on Earth.
mesosphere—the layer in which most meteors burn up after entering Earth's atmosphere and before reaching Earth's surface.
stratopause—the boundary between the mesophere and the stratosphere.
stratosphere—contains the ozone layer; the layer where volcanic gases can affect the climate.
tropopause—the boundary between the stratosphere and troposphere.
troposphere—the layer closest to Earth's surface in which all weather occurs.