Volcanoes
Volcanic Explosivity Index (VEI)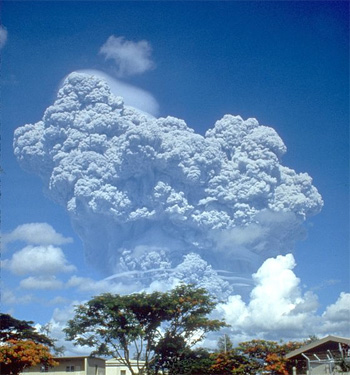 This image shows the ash column from Mount Pinatubo in the Philippines three days before it erupted on June 15, 1995. Mount Pinatubo was later assigned a 6 on the VEI.
You probably have read about the Richter scale when you studied earthquakes in science class. The Richter scale measures earthquake strength. Volcanoes have a similar scale called the Volcanic Explosivity Index (VEI).
The scale was invented by Chris Newhall of the U.S. Geological Survey and Stephen Self of the University of Hawaii in 1982. The Volcanic Explosivity Index gives us a way to measure the relative explosiveness of volcanic eruptions. It measures how much volcanic material is ejected, the height of the material thrown into the atmosphere, and how long the eruptions last. The scale is logarithmic, or based on 10; therefore, an increase of "1" on the scale indicates an eruption 10 times more powerful than the number before it on the scale.

Look at some examples in the Volcanic Explosivity Index table that follows.
A volcano classified with an index rating of "1".
Has an ejecta volume of greater than 10,000 cubic meters (equivalent to 353,150 cubic feet).
Is classified as Hawaiian/Strombolian.
Is a

gentle

eruption with a plume height of 100-1,000 meters.
Occurs daily with many eruptions in the last 10,000 years.
A volcano classified with an index rating of "6":
Has an ejecta volume of greater than 10 cubic kilometers.
Is classified as Plinian/Ultra-Plinian.
Is described as being a colossal eruption with a plume height greater than 30 kilometers.
Occurs somewhere on Earth every 100 years with 51 occuring in the last 10,000 years.
VEI

Ejecta volume

Eruption

Classification

Description

Plume
Height

Frequency
of Eruption

Examples

Occurrences in last 10,000 years*

0

< 10,000 m³

Hawaiian

Effusive

An outpouring of lava on the ground (as compared with eruptions of ash into the air)

< 100 m

Persistent

Kilauea, Piton de la Fournaise

Many

> 10,000 m³

Hawaiian/Strombolian

Gentle

Low-level, small to medium volume

100–1000 m

Daily

Nyiragongo (2002)

Many

> 1,000,000 m³

Strombolian/Vulcanian

Explosive

Dense cloud of ash and gases with volcanic bombs (2-3 meters in diameter)

1–5 km

Weekly

Ruapehu, New Zealand (1971), Mount Sinabung (2010)

3,477

> 10,000,000 m³

Vulcanian/Pelean

Severe

Glowing avalanche of hot ash and pyroclastic flows

3–15 km

Few months

Soufriere Hills (1995), Nevado del Ruiz, Colombia (1985)

868

> 0.1 km³

Pelean/ /Plinian

Cataclysmic

Columns of gas and ash

Extends to stratosphere

10–25 km

≥ 1 yr

Mount Pelee, West Indies (1902), Eyjafyallajokull (2010)

421

> 1 km³

Plinian

Paroxysmal

20–35 km

≥ 10 yrs

Mount Vesuvius, Mount St. Helens (1980)

166

> 10 km³

Plinian/Ultra-Plinian

Colossal

> 30 km

≥ 100 yrs

Krakatoa, Indonesia (1883), Mount Pinatubo, Philippines (1991)

51

> 100 km³

Ultra-Plinian

Super-colossal

> 40 km

≥ 1,000 yrs

Tambora (1815)

5 (+2 suspected)

> 1,000 km³

Supervolcanic

Mega-colossal

> 50 km

≥ 10,000 yrs

Yellowstone (Pleistocene)

0
Originally, the index was developed to help estimate the climatic impact of a volcanic eruption. As scientists learned more about the impacts of volcanic ash and gases, they found that the amount of sulfur dioxide gas ejected into the atmosphere (not necessarily related to the size of the eruption) was a better indicator of possible climate effects.
Additional Resources About Volcanic Eruptions
The United States Geological Survey (USGS) provides a freely downloadable Volcanic Explosivity Index (VEI) that describes the size of an explosive volcanic eruption. You can access this table and link to the USGS Volcano Hazard website for further information.