Human Health Effects
Climate Change and Aeroallergens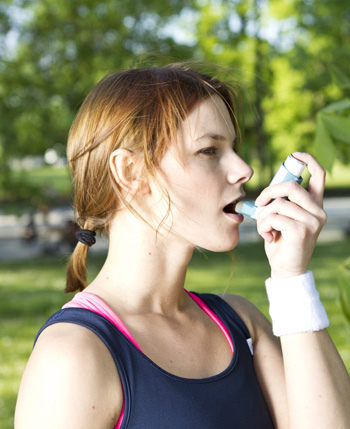 The global climate changes that have been forecast have the potential to affect human health in a variety of ways—some direct, as in the melting of the ice caps and the flooding of coastal communities, and some indirect, as in the presence of increasing amounts of aeroallergens in the atmosphere.
An aeroallergen is any airborne substance, such as pollen or spores, which causes an allergic response. Aeroallergens will represent a direct threat to many people who already suffer from respiratory illnesses and to the people who will develop problems after exposure.
Increased temperatures and increased carbon dioxide in the lower atmosphere will increase plant metabolism. At first glance, this might seem like a positive effect. However, with increased plant metabolism comes increased pollen production, fungal growth, and spore release.
Pollen and mold spores are allergens that cause allergic rhinitis (inflammation of the nose or mucous membranes) and other respiratory diseases, such as asthma and chronic obstructive pulmonary disease (COPD). Allergic diseases are the sixth leading cause of chronic disease in the United States. Asthma alone affects approximately 20 million Americans. There is little doubt that a global increase in asthma will be an early health consequence of global climate change. Preliminary studies suggest that the negative health effects from this factor alone could be substantial.
Asthma FastFacts
The U.S. Centers for Disease Control (CDC) reported the following:
In 2004 approximately 255,000 people worldwide died of asthma.
In 2007 asthma accounted for 3,447 deaths. In the United States that's more than nine people every day. Asthma deaths were higher among adults than among children and higher among women (2,173) than among men (1,274).
Asthma costs the United States more than $30 billion every year. These costs include the direct expenditure of treating asthma.
An estimated 444,000 hospital discharges related to asthma were recorded in 2006, with an average length of stay of 3.2 days.
Asthma accounted for 1.1 million hospital outpatient visits and 1.6 million emergency department visits in 2006.
An estimated 10.6 million asthma-related visits were made to physician offices.
In 2007 a CDC study showed 34 million people had been diagnosed with asthma during their lifetimes. Of that total, 12.3 million had experienced an asthma attack in the previous year.
In 2004 approximately 300 million people of all ages worldwide had asthma.
National estimates (2007):
A CDC study showed 1 in 9 Americans had been diagnosed with asthma during their lifetimes.
An estimated 9.6 million children (13.1 percent) under the age of 18 and 24.4 million adults 18 and older (10.9 percent) had been diagnosed with asthma.
An estimated 22.9 million people (7.7 percent) of the population have asthma.
Asthma prevalence is higher among females (8.9 percent) than males (6.5 percent).
Asthma prevalence is higher among children ages 17 years and younger (9.1 percent) than adults (7.3 percent).
Asthma prevalence is highest among blacks (10.2 percent), followed by whites (7.6 percent) and Hispanics (6.8 percent), including Puerto Ricans (14.1 percent) and Mexicans/Mexican-Americans (5.8 percent).
Source: http://www.cdc.gov/asthma/pdfs/asthma_fast_facts_statistics.pdfnal Center